Firm Profile
The Franklin Partnership, LLP, a bi-partisan government relations firm, provides comprehensive legislative affairs and public policy services on behalf of their clients before Congress, the Administration, relevant agencies and state and local governments.
The firm's diverse client base includes municipal governments, defense contractors, hospitals and medical research facilities, tribal governments, manufacturers, and trade associations, among others. As a result, our partners have focused expertise in numerous areas such as; tax, international trade, health care, defense, energy, federal funding via the appropriations and grants process, economic development, transportation, small businesses, tribal issues and many more.
WE PROVIDE WORLD-CLASS SERVICE TO OUR CLIENTS BY:
Establishing a comprehensive legislative review process
Formulating an effective legislative roadmap
Guiding our clients through the federal funding process
Developing and implementing policy positions
Expanding our clients political footprint
Grassroots mobilization
Working with broad coalitions
"Two heads are better than one, but the Franklin Partnership is more comfortable with three. John Guzik, Pete Rose, and Omar Nashashibi are the founding members of the new lobby shop, named after Benjamin Franklin…."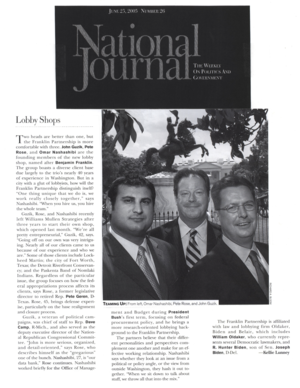 COMMITTED TO THEIR CLIENTS
The entire Franklin Partnership team engages on behalf of its clients. They often use multiple approaches to achieve the client's short and long-term goals. As a result many of the Firm's clients have been engaged for years.
According to a Washington Post analysis, The Franklin Partnership has one of the highest client retention rates of any government relations firm in DC.
The Franklin Partnership is also affiliated with several established law and lobbying firms including the Foley Law Group PLC, Lowry Strategies, and The Oldaker Law Group, LLP.
FIRM NEWS